Myrtle Beach Attractions
Whether you're headed our way for a full-fledged family vacation, a relaxing weekend getaway, a business trip or church retreat, Myrtle Beach is a place that offers a whole lot of everything for absolutely everyone – on the beach and off the beaten path.
It's impossible to share every delicious detail but here is a smattering of Myrtle Beach's many attractions. At Broadway at the Beach, a single location that masterfully marries shopping, dining and entertainment, families will love MagiQuest, a live-action game with more than 150 wand-activated effects where players interact with videos in a three-dimensional fantasy world. Then there's Ripley's Aquarium and Soar + Explore, a zip line and ropes course. Catch lunch and take a breather, then head for the Pavilion Nostalgia Park's array of rides, including the historical Carousel, spinning Tea Cups, Pirate Ships, and Wave Swinger, among others. Slow down for a gander of the antique German Baden Band organ, and top off your day with a delicious, old-fashioned funnel cake and fresh-squeezed lemonade. Also at Broadway is WonderWorks, billed as an "amusement park for the mind," and the Backstage Mirror Maze. The Maze is too intricate, indeed too intriguing, to describe in short order but word has it, it's a mind-bending experience.

The Family Kingdom Amusement Park

Away from Broadway, The Family Kingdom Amusement Park boasts the sentimental appeal of an old-fashioned fairground. Named among the top five amusement parks in the nation, rides include the Swamp Fox wooden roller coaster and a 100-foot Ferris wheel. Additionally the Family Kingdom Water Park is Myrtle Beach's only waterfront water park! It offers wet and wild water flumes, (over 100' drop), exhilarating speed slides, intermediate speed slides and a spacious 425' long lazy river with waterfalls. All overlooking the Atlantic!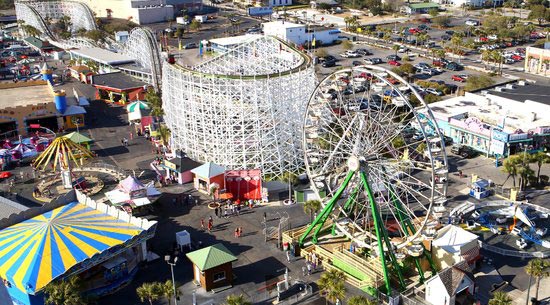 Myrtle Waves, located at the corner of 10th Ave N. and Hwy 17 Bypass near Broadway at the Beach, and Wild Water & Wheels in Surfside Beach are two other wet and wonderful water parks. The latter option also offers a specially made track and downsized race cars so the six-to-nine year old set can experience the thrill of racing. There's also a miniature golf course.
MYRTLE BEACH SKYWHEEL

We cannot overlook the Myrtle Beach SkyWheel. Little more than a year old, it is an amazing attraction. It has 42 glass-enclosed, temperature controlled gondolas, each with seating for six passengers. It climbs skyward to an impressive 200 feet above sea level and is the only observation wheel of its kind in the US. It is also the tallest Ferris wheel in the nation east of the Mississippi River. It's located on the on Myrtle Beach Boardwalk.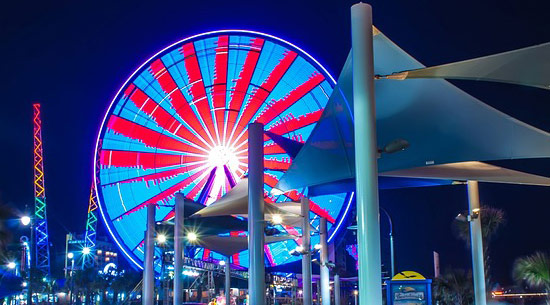 No description of area attractions could reasonably omit NASCAR Speedpark at US 17 Bypass at 21st Avenue North, Myrtle Beach. This ever-popular attraction is a day trip in itself. It has multiple tracks that offer challenge and a fine adrenaline rush for adults, tiny tykes and everyone in between. There are double-seat and single-seat race cars. Lesser known is the fact that the Speedpark has a number of attractions that have little to do with NASCAR. On the Skycoaster, flyers are pulled to a height of 109 feet and released to free fall towards the ground like a giant swing! The state-of-the-art, interactive SpeedDome Arcade features more than ninety of the hottest video and redemption games. There are batting cages, a 36-hole Mini-Golf course, spinning teacups, a rock climbing wall and Sky Wheels, a NASCAR themed version of the Ferris Wheel!
And still we're not done. There are numerous live theatres with Broadway like performances and others with full-on performances that include horseback riding and medieval jousting, pirates and buccaneers, and impersonators of famous stars. There's a Children's Museum and an Arts Museum and the beloved Ripley's Believe It or Not! Museum. Ripley's also has a haunted adventure on Ocean Boulevard. In truth, the Boulevard in downtown Myrtle Beach is a string of attractions one after another – from arcades to shooting galleries. Of course, there's golf, golf everywhere. Miniature golf too. And bungee jumping. And even more.

There's just not a good place to stop the list. Ask the folks at Elliott Realty to point you in a fun direction. They know the ropes and won't steer you wrong!