Myrtle Beach Dining
Being a weightwatcher on the Grand Strand is a lot like being a pagan in a village of missionaries. A word of advice would be to ease up on calorie-counting during your time in our neck of the woods. Healthy options are available at a majority of restaurants – but what's a great vacation without at least a wee bit of room for excess?
If you're up for a no-holds-barred culinary adventure, you have tumbled onto cloud nine. The Carolina's sixty mile ribbon of sea and surf is peppered with more restaurants than your sunbaked brain can fathom; approximately 1,800 options serve up panoply of taste sensations! Just imagine! It would literally take months of three-meal days to sample all the possibilities!

Naturally, fresh seafood is abundant and regularly takes center stage, but there are a slew of alternatives to appease every rumbling tummy. You may have to do a little research to find tucked away treasures, but it is possible to sample Japanese, French, Italian, Mexican, Chinese, Vietnamese and even Ethiopian specialties. There's an Australian hot-spot, authentic German hangouts and charming round-table bistros. We'd be remiss if we didn't mention that we're famous worldwide for lavish, all-you-can-eat buffets, but countless of our award-winning restaurateurs have mastered the art of intimate sit-down dinners too.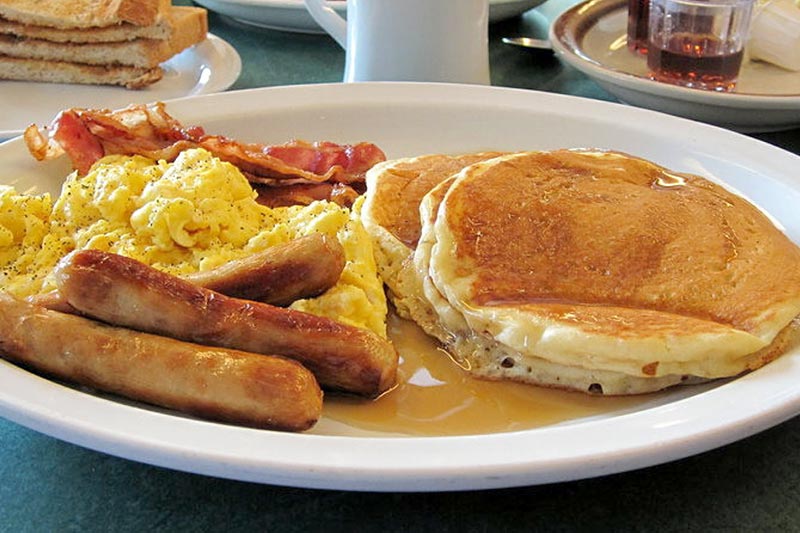 Traditional breakfast favorites.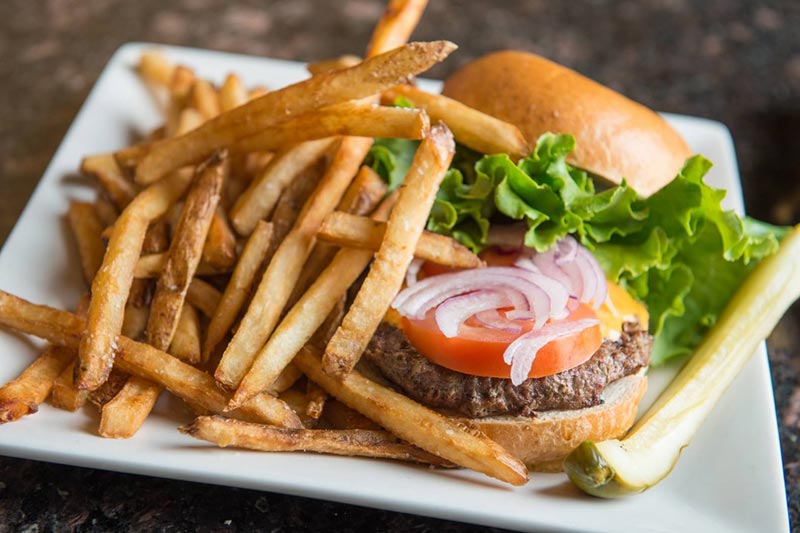 Casual dining classics are abundant.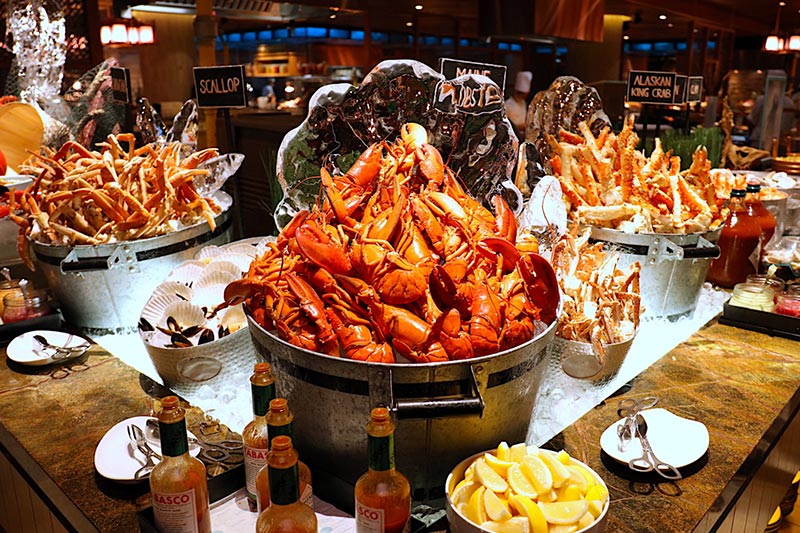 A visit to a seafood buffet is a must!
Grand Strand dining delivers full-on elegant, as well as shorts-and-flip-flops casual. Dozens of enterprises feature decks for dining and showcase views galore – of the ocean, pretty lakes, the Intracoastal Waterway and creek side, too. Take care not to skip local selections – like shrimp and grits, hushpuppies, alligator stew, crawfish and "chicken bog" (a soupy mixture of rice, seasoned sausage, tender chicken and plenty of cracked black pepper). Once you've sampled Lowcountry cooking – simmered slow and steeped in spices – you'll daydream about returning again and again.
As well as a wealth of mom-and-pop's and independently owned eateries, there are lots of nationally known names whose quality you can trust: Cracker Barrel, Red Lobster, Wendy's, Olive Garden, Pizza Hut, Fuddrucker's, Applebee's, and TGIFridays. Good luck finding the end of that list!

Reservations are not necessary at the majority of restaurants, and – and in admiration of our laid-back lifestyle – some establishments don't accept them at all. However, lines are commonplace in our seaside paradise, so calling ahead can never hurt. If advance planning is not an option, take heart knowing we've learned a lot about feeding folks fast; lines usually move quickly. While you're waiting, people-watching will help you pass the time. And, lots of restaurants have bar areas where you can settle in for one of those tropical "umbrella drinks" until you can be seated.