Myrtle Beach Watersports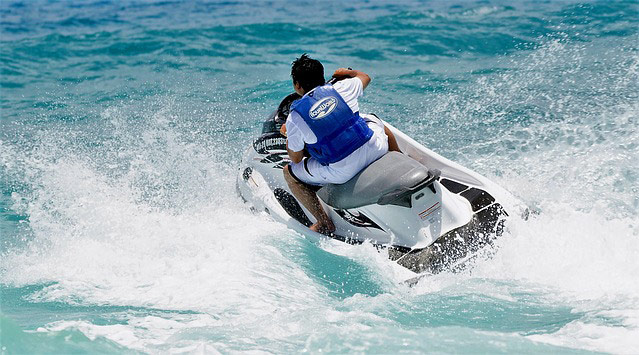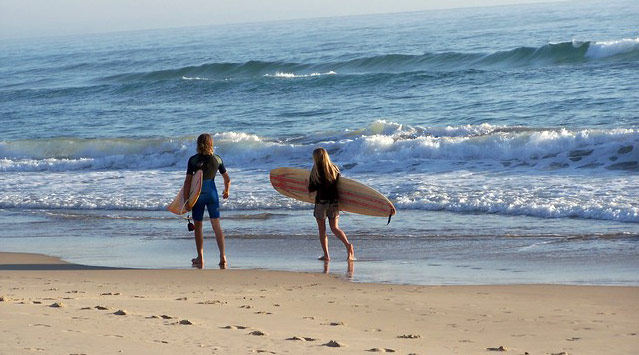 Making waves on your Grand Strand vacation is as easy as falling off a log. Any direction you turn, there will be an option to thrill and satisfy. Whether you desire pulse-pumping excitement or the reward of relaxation on the water – or a little of both – there is something for every soul young and old.
If relaxation is your primary objective, there are a number of outfitters who offer rentals for kayaks, canoes and paddleboards, as well as riverboat and pontoon boat tours. Lots of tourists don't realize there's a lot more water than the Atlantic to play in. Running roughly parallel to the coast is the Intracostal Waterway. For those not familiar with the history, the Intracoastal is a 3,000-mile channel along the Atlantic and Gulf coasts. Some intervals consist of natural inlets, salt-water rivers, bays, and sounds; others are artificial canals. It provides a navigable route along its length without the hazards of travel on the open sea.

The Grand Strand section of the waterway opened in 1936. And so it is that – in addition to the wide and wonderful Atlantic shoreline – we have a crazy wonderful stretch of river, too! The Intracoastal joins the Waccamaw River on the south end of the Strand. And off that waterway is a tangle of creeks and tributaries and old rice canals and marshes – all perfect for exploring in a slow-moving vessel or on a pontoon boat. Tours are based out of Barefoot Landing and a fistful of other area marinas and outfitters.

There's no peace like the peace you find on water. Kayaking is much easier than anyone expects – even for kids and the inexperienced paddler. You can also relax on a chartered sailboat or catamaran, go scuba diving or deep sea fishing, take a dolphin watching tour, or hit the back inlets and bays of the North Myrtle Beach or Murrell's Inlet to soak up the natural, breathtaking beauty. Or, up the energy level and charge full speed ahead on a jet ski or banana boat. Test your mettle and try windsurfing, paddle boarding or old-fashioned wave riding on a surfboard or a body board or a skim boards. Lessons are easy to find.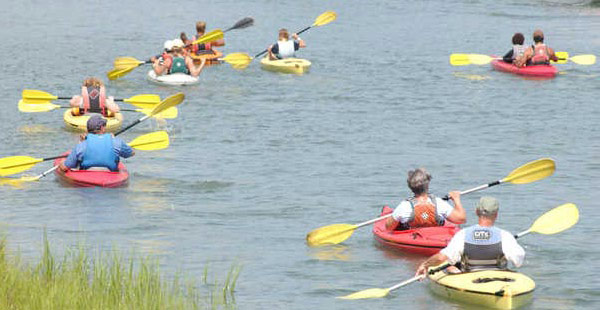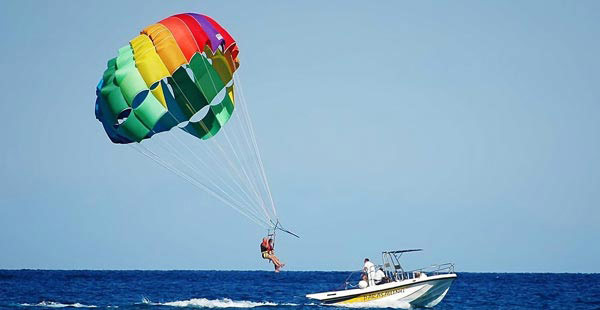 Or coast high and quiet above the ocean on a parasailing adventure. Ah … parasailing. Parasailing is an option perfect for the uninitiated. Parasailing feeds an innate hunger for adventure. One taste and even timid types are hooked. The sensation of floating, away and above day-to-day concerns, is transformative. When your toes leave the boat and you ascend higher – and higher still – you quickly acquire new perspective. The wind rushing past your ears is, surprisingly, a hushed and peaceful sound. The ocean below is a world all its own. You might spy dolphins playing, gulls pestering a school of fish or pelicans diving for dinner. The views are amazing.
In addition to these popular Myrtle Beach water sports, you'll find plenty of activity right at the water's edge including skim boarding and body boarding and just floating on a never-ending parade of ocean waves!

Here's an abbreviated list of outfitters and other providers of tours and charters and fishing expeditions. Google will help, but this list will give you a great place to start your quest! Or call and talk to someone at Elliott Realty. They'll offer direction and give you the inside scoop. And there's a lot of inside scoop!
BLACK RIVER OUTDOORS (Various Locations): Kayaking - 877-360-4220; www.blackriveroutdoors.com
DOWNWIND SAILS & WATERSPORTS (29th Ave. S in Myrtle Beach): Parasailing, Jet Skis and Banana Boat - 843-448-7245; www.downwindsailsmyrtlebeach.com

EXPRESS WATERSPORTS (4042 Hwy 17 Business in Murrells Inlet): Parasailing, Jet Skis and Scuba - 866-566-9338; www.expresswatersports.com

ISLAND ADVENTURE WATER SPORTS (5843 Dick Pond Rd in Myrtle Beach): Pontoon Boats, Paddle Boards and Wakeboards - 843-650-7003; www.islandadventurewatersports.com

OCEAN WATERSPORTS (3rd Ave S. in Myrtle Beach): Parasailing and Jet Skis - 843-445-7777; www.parasailmyrtlebeach.com

PLANTATION RIVER TOURS (Wache Wacca Marina, on the Waccamaw River (aka Intracostal Waterway), in Murrells Inlet): River Tours - 843-651-2994; www.plantationrivertours.com

SEABATICAL CHARTERS (518 Old Field Rd in Murrells Inlet): Fishing Charters - 843-222-0284

SHORELINE WATERSPORTS (409 S. Ocean Blvd in Surfside Beach): Various Watersports - 843-238-2FLY; www.shorelinewatersports.com

SURF THE EARTH (47 Da Gullah Way in Pawleys Island): Surf Lesson and Camps - 843-235-3500; www.surf-the-earth.com

THOMAS OUTDOOR WATERSPORTS (2201 Little River Neck Rd in North Myrtle Beach): Various Watersports - 843-280-2448

WALLACE SAILING CHARTERS (525 Front Street in Georgetown): Sailing Charters - 843-902-6999; www.wallacesailingcharters.com